Featured artists and collaborations
It begins with a dilemma. What becomes of silence and space, when combined, is an enigma. It is neither only here, nor just there – it is always on the move, always in-between. It is in-between individual recollections of silence; it resounds off of collectively experienced spaces.
Mika Hannula
With its silence-related exhibition, the Silence Project collaborates with artists, galleries, museums, individuals and institutions in Nordic countries as well as internationally. Since the Silence Project exhibitions are often set up several times and consequently in different settings and with changing constellations, the artist has the opportunity to work on the same subject for longer periods of time. The performative Silence Meal is a ritual repeated with each exhibition.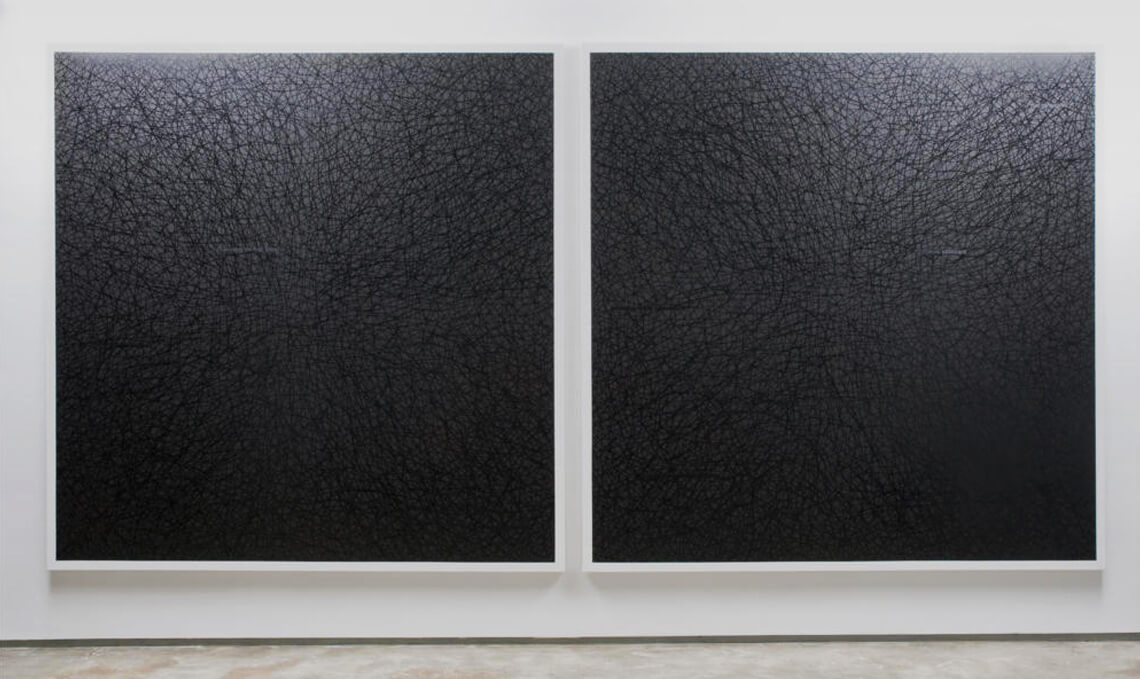 Dysfunctional Male Parent
Dag Erik Elgin
Dag Erik Elgin's (b. 1962) work is informed by an ongoing investigation into the history of painting, modernist ideals and contemporary visual culture. He is concerned with establishing a practice where the specific physical qualities of painting, historical analysis and personal production are constantly negotiated. Recent projects like Museum Work, Originals Grisaille and La Collection Moderne introduce text based works and repetitive strategies as catalysts for exploring modernism's ongoing affair with current cultural and aesthetic representations. A parallel production of texts accompanies his visual investigations, e.g. "Preparing for Painting to Happen" in: Josef Albers: no tricks, no twinkling of the eyes -Verlag der Buchhandlung Walter König, Cologne 2014 and "p.p. Provenance Painted" in: Looters, Smugglers, and Collectors: Provenance Research and the Market - Verlag der Buchhandlung Walther König, Cologne, 2015. In 2019, a monography on Elgin's work titled Mirror falling from the Wall with texts by Uwe Fleckner, Gabriele Knapstein and Øystein Ustvedt will be published. Recent exhibitions include Museum Work, The National Gallery Oslo 2018, Originals, The Armory Show, New York 2017, Originals/Grisaille, OSL Contemporary 2016, Expanding Frontiers, Fondation Hippocréne, Paris 2016, In search of Matisse, Henie Onstad Kunstsenter (HOK) 2015 and Black Mountain – An interdisciplinary Experiment, Hamburger Bahnhof, Berlin 2015.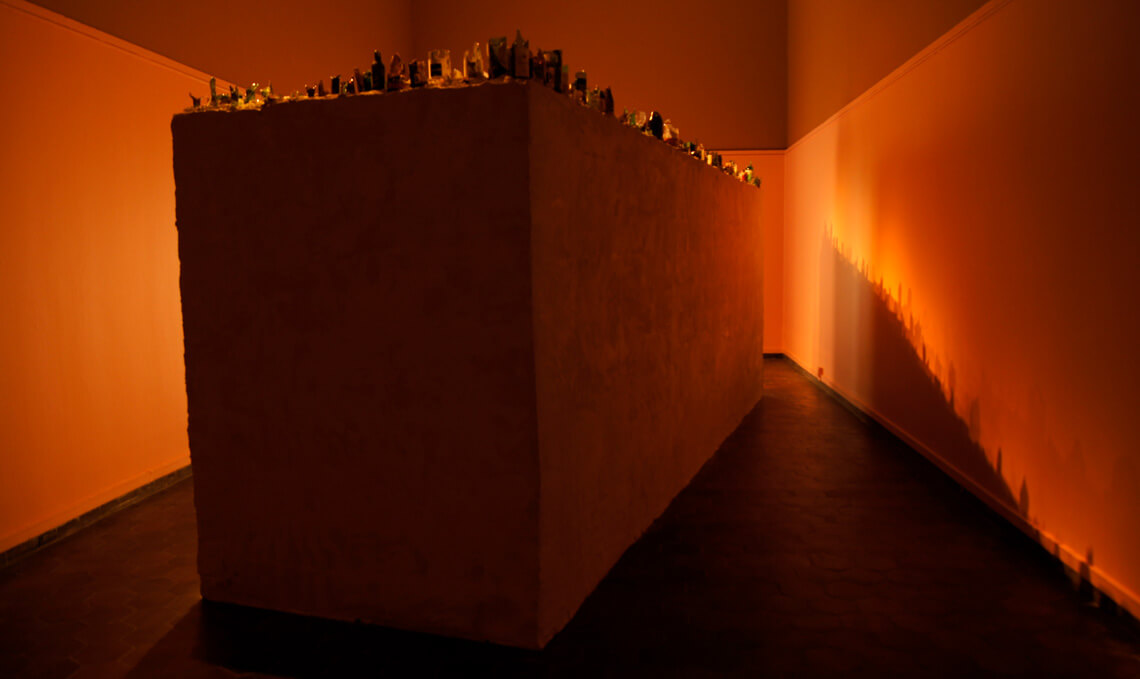 Study of a Monument
Johan Zetterquist
Conceptual artist Johan Zetterquist devises proposals and designs for public space whose execution is one step removed from reality. His ambitious, absurdist proposals may take the form of texts, drawings, photography, models, performances, sound art and large-scale installations and sculptures both within and outside of the gallery. His subjects often exist within the urban context and confront our understanding of the distinction between "nature" and the man-made. Zetterquist's surreal humor creates unconventional ideas: a permanently burning house on the edge of the highway, skyscrapers half-buried in sand, a "monument" that is actually a garden fence. His works rebel against societal rules and the orderly voice of public announcements, refusing conformity and rejoicing in hypothetical realities.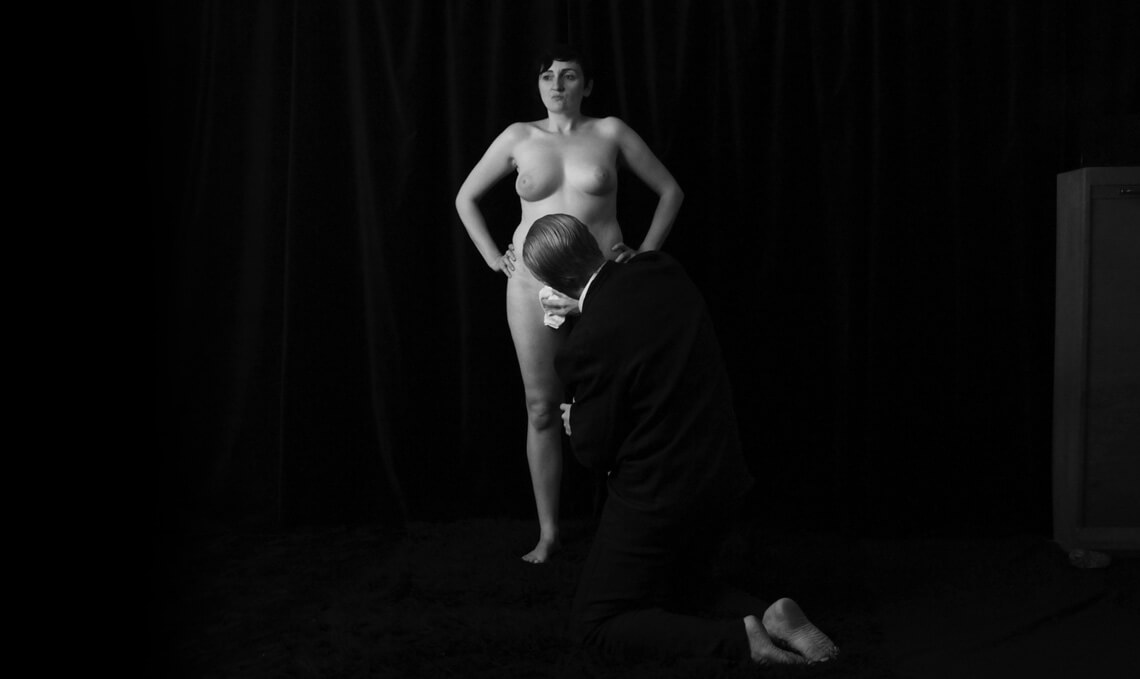 Shaving of the Baroness
Lene Berg
Working mostly with film, but also with photography and text, Lene Berg's work exposes clichés, opposing fact and fiction, sexual politics and avant-garde narration. These concerns can be seen in her recent films Kopfkino (2012), Dirty Young Loose (2013) and Gompen and other Tales of Surveillance in Norway 1948-89 (2014). With solo shows include Fotogalleriet in Oslo and Whitechapel Gallery in London, she has also participated in group shows and several Biennales around the world. Berg represented Norway at La Biennale di Venezia in 2013.
Lene Berg studied film at Dramatiska Institutet in Stockholm. She lives and works in Berlin and New York.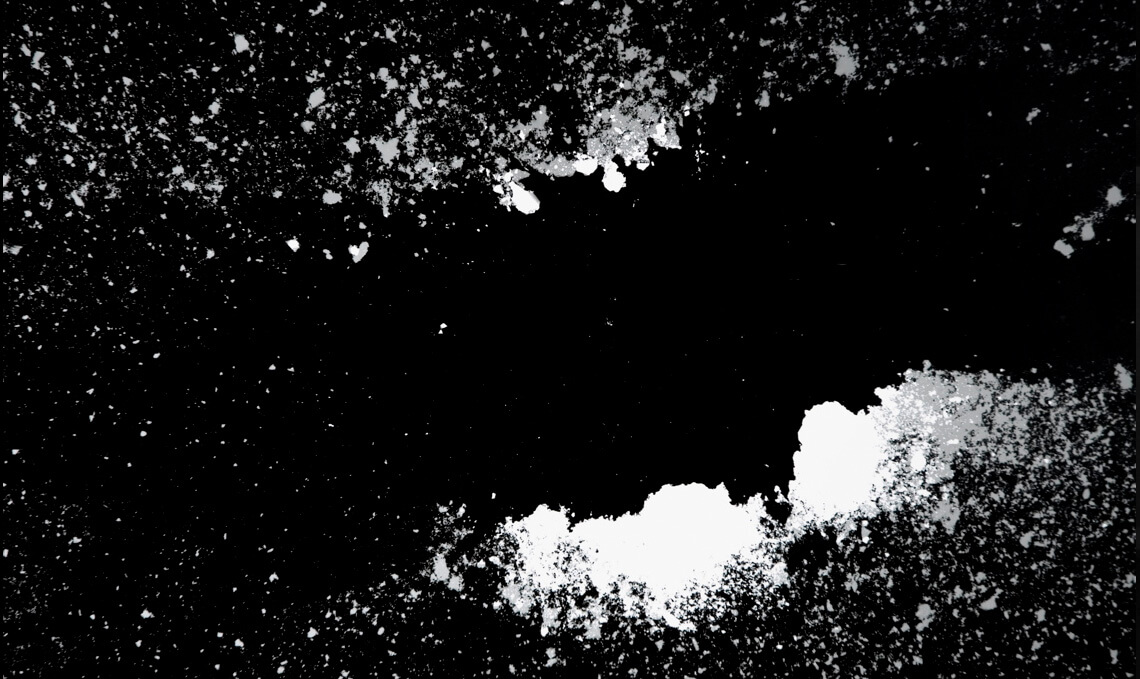 Title of Artwork
Lise Bjørne Linnnert
Lise Bjørne Linnert lives and works in Oslo, Norway. She obtained her art degree from Oslo Interdisciplinary Art Institute, Norway, Evanston Art Institute, Evanston, Illinois, and Glassell School of Art of The Museum of Fine Arts, Houston, USA. Her work has been exhibited nationally and internationally at art institutions such as: Women Museum, Mexico City, UN High Commissioner for Human Rights Office, Mexico City, Rubin Centre for Contemporary Art, El Paso, The Station Museum of Contemporary Art, Houston, USA, Stenersen Museum, Oslo, Norway, Pallant House Gallery, Chichester, UK, Charlottenborg Kunsthal, Copenhagen, Denmark, VISUAL Centre for Contemporary Art, Ireland and Musée Bernadotte, Pau, France. Her conceptual and process based work spans a range of strategies including performance, photography, text, drawing, textile and installations. The starting point for her practice is specific occurrences – political, social or personal. With an aim to bring these issues closer, she gathers traces to construct from her own, others, found or staged. Collaboration is an essential part of her practice, as is time. Projects may last for years or have no end date.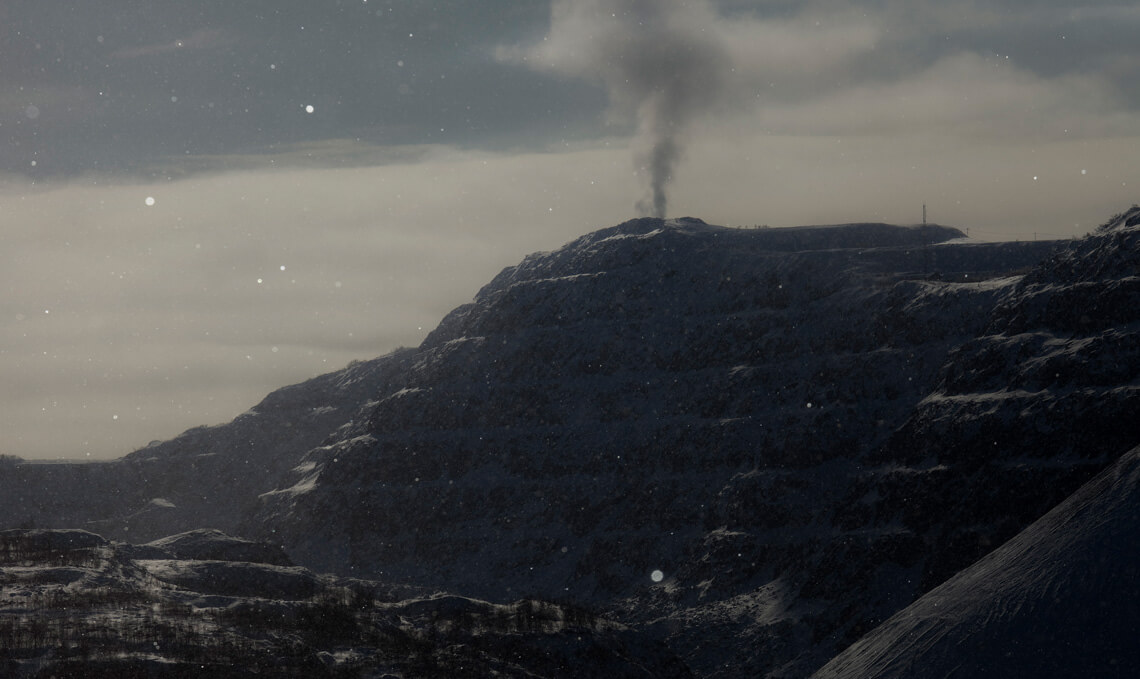 Marja Helander (b.1965) is a Sami photographer, video artist and filmmaker with roots both in Helsinki and Utsjoki. In her art, Marja Helander often builds from her own background between two cultures, the Finnish and the Sami culture. Sine 1992, Helander´s work has been exhibited in two dozen solo exhibitions and over 50 group exhibitions in Finland and abroad. At the 2018 Tampere Film Festival, Marja Helander was awarded the Risto Jarva Prize for her film Eatnanvulos lolttit, Birds in the Earth. The Mänttä Art Festival has selected Marha Helander as the curator for the 2019 exhibition.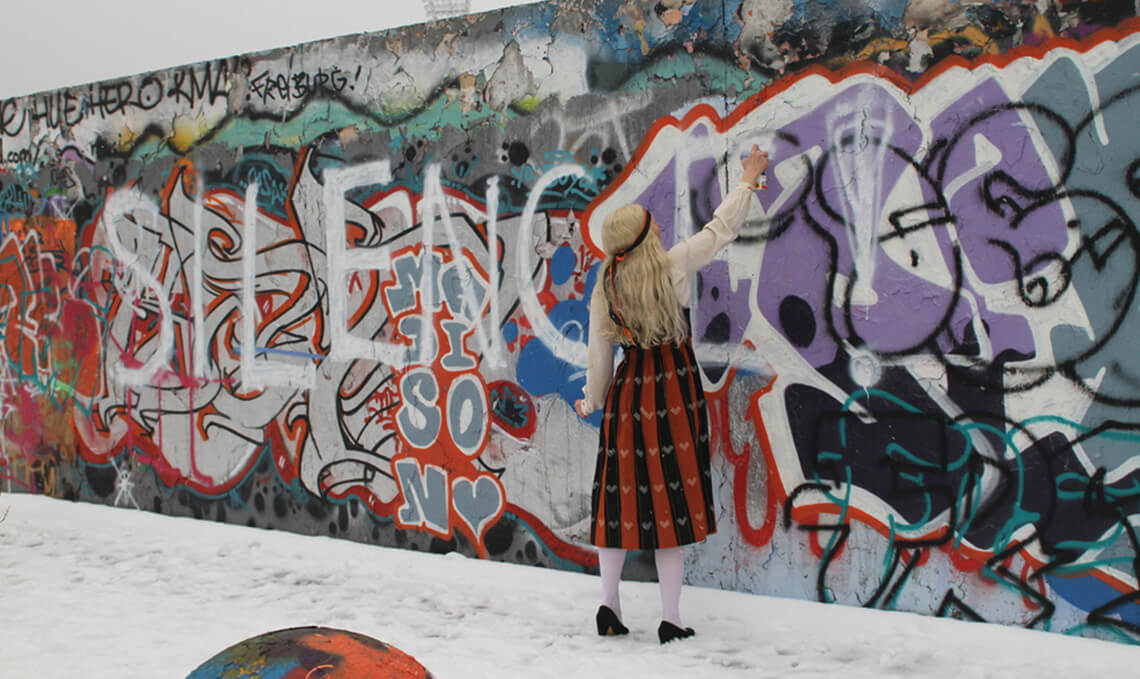 Nina Backman is a Finnish artist, performer, curator and founder of the Silence Project. She was born in Helsinki and originally studied Theatre Design at the Liverpool Institute for the Performing Arts in the UK.
The hallmarks of silence weave through Backman's art leaving traces of a veiled depth. In challenging the space between installation, performance and visual art, silence is integral to the artistic process. For Backman, silence brings together different but related elements within a conceptual frame, in turn creating new dialogues. These set out to invite critical reflection, to expose layers otherwise unnoticed, to challenge perceptions as yet outside our realm of experience. She has collaborated with a wide spectrum of creative disciplines including film, theater, photography and design. Nina Backman is behind the performative piece Aino and the Silence Meal. She currently lives and works in Berlin.
R. Guðleifsdóttir & Ó. Guðmundsson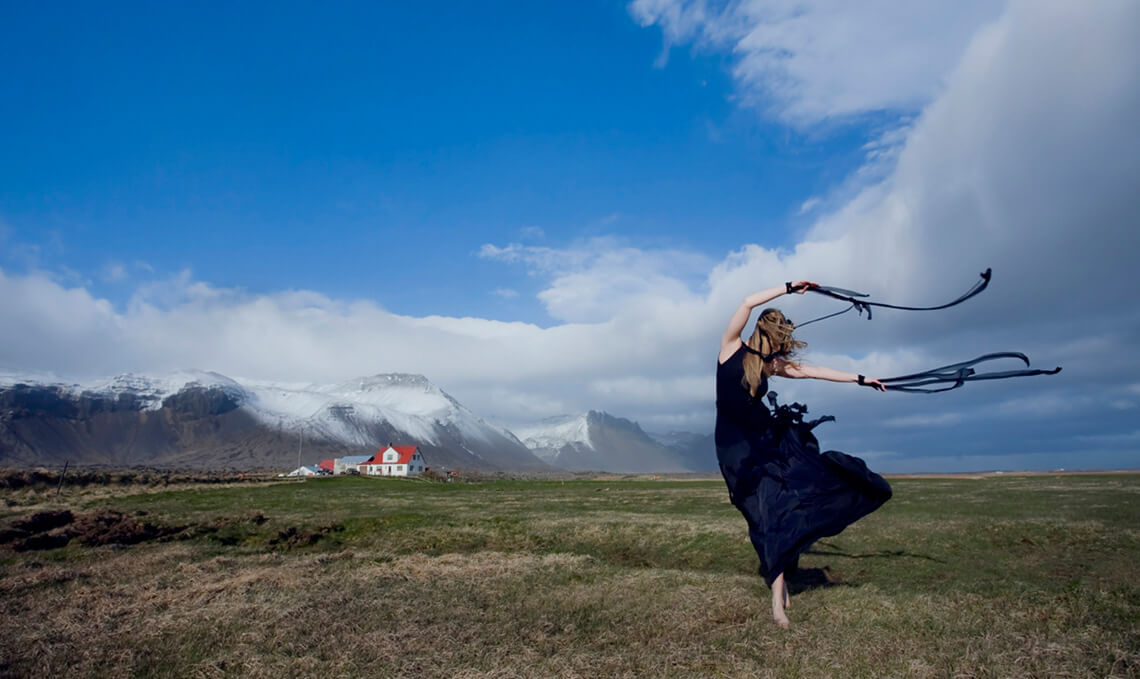 Rebekka Guðleifsdóttir's photography has a unique sensibility — it is dramatic and spare without being stark. Both a landscape and a portrait photographer, her magnetic qualities come together in her self-portraits and luminous snow landscapes and coastline images. Her breathtaking imagery of her native Iceland and her mastery of editing has made Guðleifsdóttir an icon of digital photography. The Weather Experience is a collaboration between Rebekka Guðleifsdóttir and Ólafur Kolbeinn Guðmundsson.
A classically trained pianist, Ólafur Kolbeinn Guðmundsson graduated in 2006 from Nýi Tónlistarskólinn, Reykjavik as a bachelor in music. In 2012–2013, he studied marine and navigation studies due to the recession in Iceland. Guðmundsson has participated in the Silence Project exhibitions as a photographer since 2013. He has also published two poetry books and works as an electronic musician and fisherman in Iceland.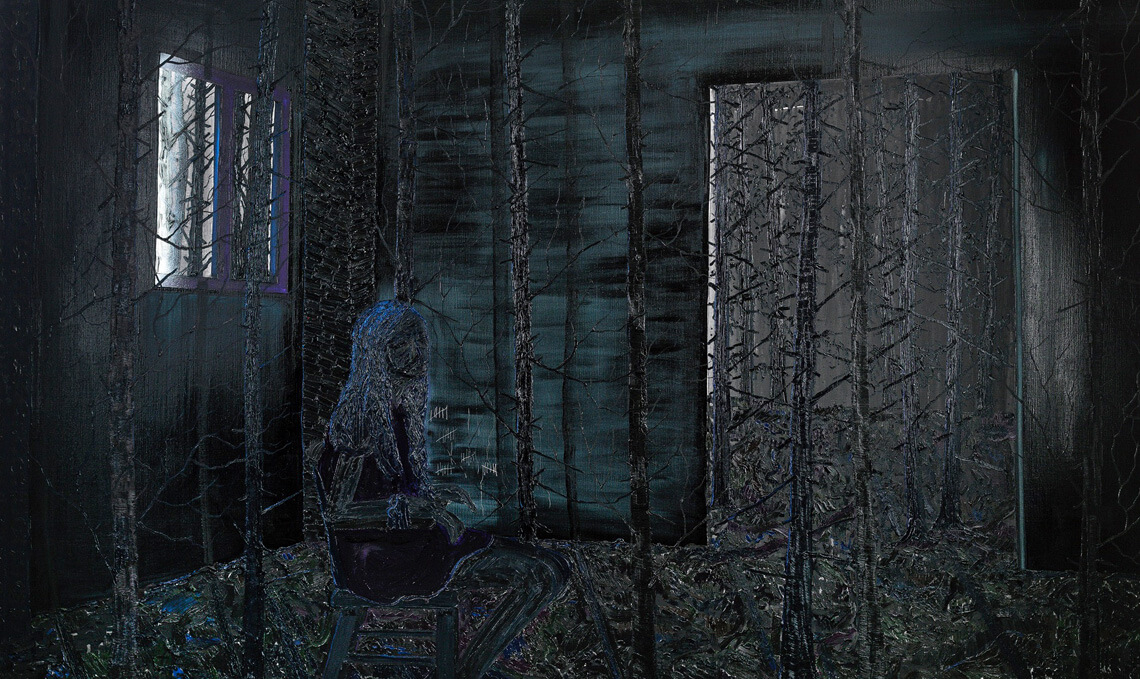 René Holm was born in Denmark and graduated from the Academy of Fine Arts in Aarhus, Denmark in 2006. René Holm is one of Denmark's most established contemporary artists and his work has been shown at art fairs from Miami to Basel for years. Often, the human being is portrayed in the wilderness in his work. The scenery often consists of a slightly threatening dark forest. In doing so, he establishes a closeness to the Nordic theme of the romantic period of painting tradition. He has received the ROCKWOOL 2007 Artist of the Year award and he participated in the St. Petersburg Biennale in 2008. He has also exhibited internationally and received a number of grants.
It's a Silent Agent Doing Its Thing,
Sari Palosaari
Picture: Annakaisa Halinen
Sari Palosaari is a visual artist living and working in Helsinki. Her works include architectural constructions, sculptures and video pieces. She creates architectural settings that involve the viewer's own physicality and the gaze as a conscious sense of defining. The installations are places for viewing. The basis of the work lies in exploring the built environment, its social and aesthetic values, as well as real and fictive memories projected on the architectural surrounding.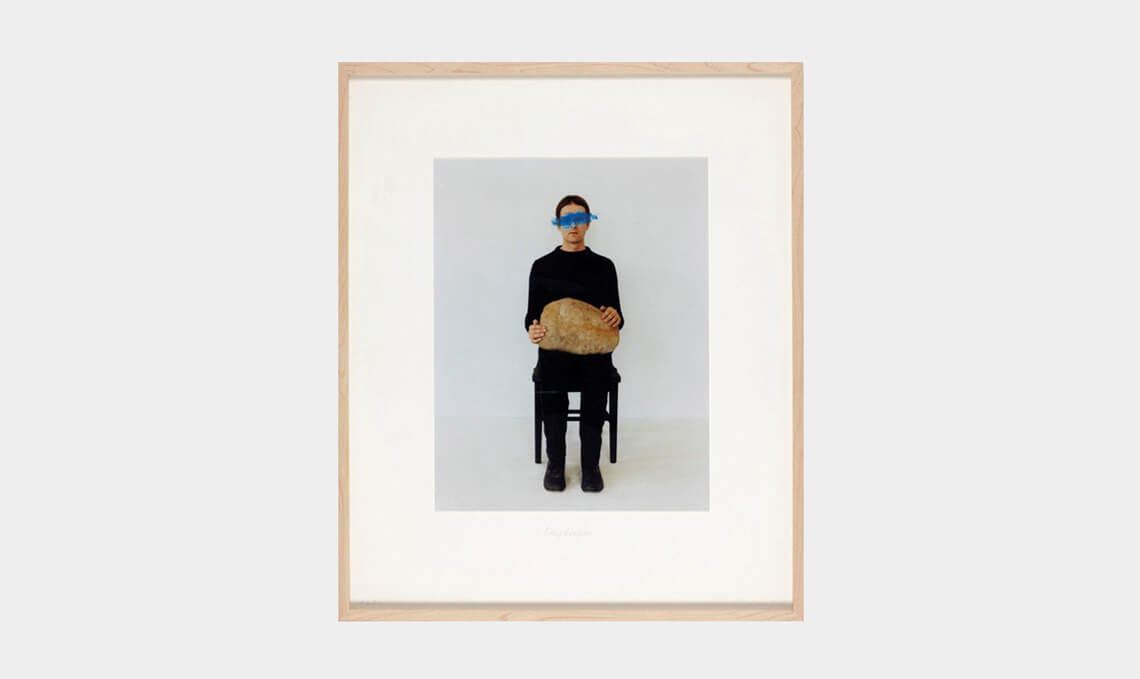 Sigurdur Gudmundsson's (b. 1942) work is difficult to separate from the energetic, humorous and intelligent artist himself. His prolific and highly individual body of work includes photographs, novels, and giant replicas of chocolates in stone, metal, and lacquer. Since the 1960s, his varied and at times seemingly cacophonic achievements have gradually grown into an oeuvre that is also vigorous, tender and original. Gudmundsson is one of Iceland's most international artists, with homes and studios in Holland, Iceland and Sweden, and recently in Xiamen and Beijing. He has exhibited widely in Europe and has had commissions for major public works in the Nordic countries and in Central Europe.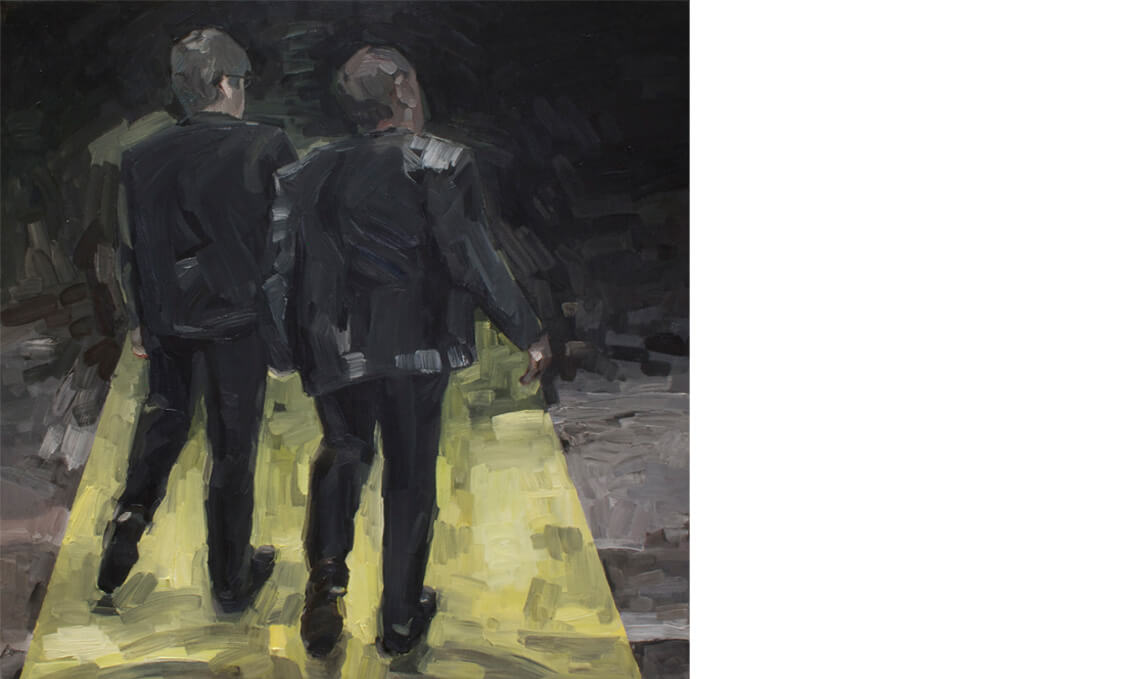 Strollers of the Yellow Road
Topi Ruotsalainen
Topi Ruotsalainen was born in 1979 in Kuopio, Finland and works in Helsinki. He studied at the Finnish Academy of Fine Arts in Helsinki. The central motif in Topi Ruotsalainen's paintings is people. With brush strokes that are reminiscent of the impressionists' way of capturing the light and the atmosphere, he lets people emerge. Sometimes alone. Often in groups. The situation is everyday, realistic. The figures jostle behind the superficial and the obvious. His art observes and investigates. Ruotsalainen takes us beneath the surface – to the underlying structures and hierarchies that affect people's relationships with one another. In a crowd, surrounded by others, we act differently in the realm of social sphere and consciousness. What is a person like when detached from his social network? Does a personality exist as a separate entity, or always in relation to others who form it? The work reflects the time in which individuality is the old norm, and new forms of collectivity as well as consciousness of the self in relation to its social network are ever increased. Ruotsalainen has a dark, almost staged feeling to his paintings. Subtle tensions and the feeling of a mysterious threat seems to underlie the artwork.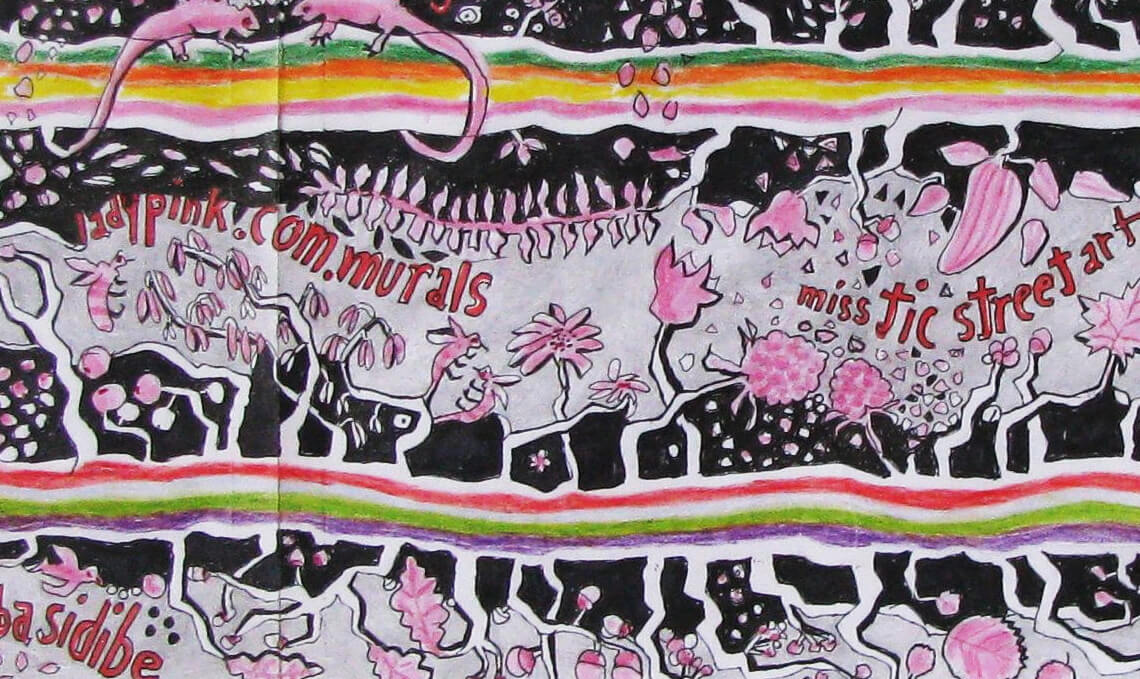 The artist has mostly been working in the public urban space for the last decade. Working alone, in groups or communities, the work is always site-specific. The body of work consists of murals, mural collages and spontaneous events. Considering the performative nature and content of the work, it takes place at the interface between activism and art. The goal is to promote public art produced on the artist's initiative.